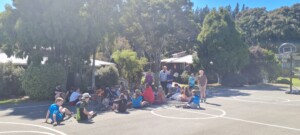 Last week our Year 7 and 8 had three days of fun at Bridge Valley. They got to waterslide and swim, work as a team in Laser Tag battles, sharpen their aim with archery and air rifles, take on the luge and drift bike, show their skills on the rock climb and try to get each other very wet on the aqua park before relaxing in the pool. They were a fabulous group of students to take away. We knew they would be and they did not disappoint. Thank you to everyone who helped support all the fundraising for what was to be their Wellington Camp. Thanks to to Fleur, Annabel, Jerry and Andrew who were able to join us for the days as camp parents.
I also want to acknowledge the time and effort put in by Heidi and Toby initially getting everything ready for Wellington and then quickly finding an alternative and working through all the logistics to make that happen in such a short time.
For the full pdf newsletter click the link below.